Sometimes when my head hits the pillow at night, I think about if I talked to my kids that day. I'm sure I told them stuff -- hang your coat up, do your homework, no more videogames, brush your teeth. But did I
really
talk to them?
Did I take the time to ask about the doodles on Annie's hands and listen to the tales of friendship attached? Did I check in with Charlie and ask about how things are going with the lunch table crew? Did I tell Robbie how proud I am that he is taking such an interest in doing well in school?
I think we all have days like that. We all have people in our lives who need to hear something from us. Last month, I was invited to a Hallmark Moments & Milestones event in Indianapolis. They think telling people what they need to hear is so important, they've created a whole campaign around it. (OK, so they kind of have a vested interest in the idea, but they happen to be right.)
In true Hallmark fashion, they took this room full of bloggers and started by pulling on our heartstrings with this video, created with snippets and photos from our blogs. (My contribution is Amy M.)
Now, tell me you aren't reaching for the Kleenex right now.
Then we each wrote our "Tell Them" thought on a piece of paper to share with the room. Here is mine, inspired by the whining and scowling that comes with getting into the driver's seat to drive to three different schools, play rehearsal, basketball practice, Cub Scouts...
Once we all dried our eyes from that little share-fest, we got to hear from two Hallmark writers and an ornament designer. Seriously, me getting to get a little peek inside the inner workings of the brain of a Hallmark writer is like Charlie having a chance to learn shooting technique from Michael Jordan.
After hearing about the ornament design process, I will admit to feeling more than a little bit guilty that I'm not a mom who buys her kids a new Hallmark Christmas ornament each year. Hey, those things are pricey. However, I will say that learning all the steps involved in the process -- did you know they make and dress with real fabric 7 models of each little figure, I can appreciate the cost a little more.
This ornament was carved in clay first, then molded in plastic, then produced in pewter.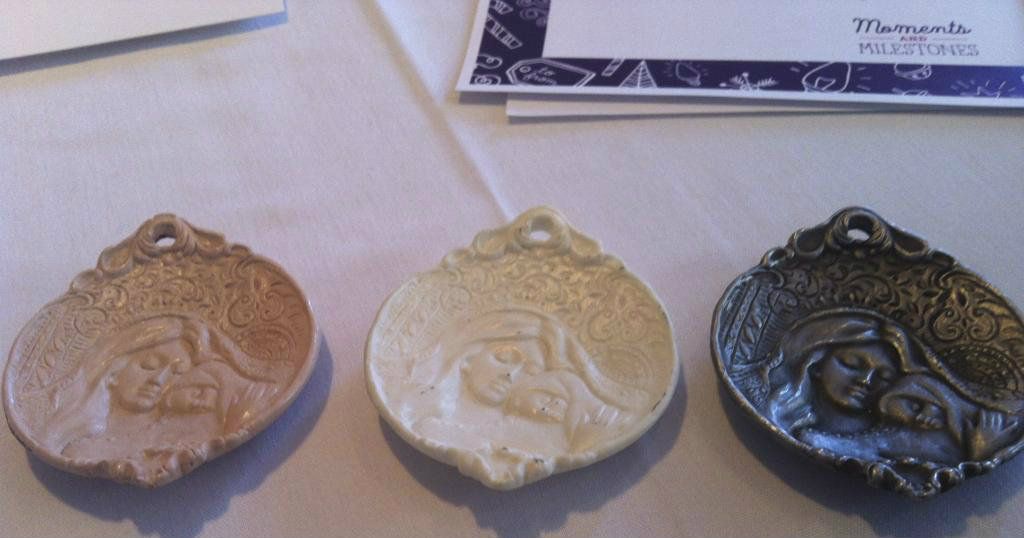 Maybe I'll start buying one family ornament each year.
Even though it was mid-October, we enjoyed frosted Christmas sugar cookies on custom-designed paper plates. If my mother-in-law were still alive, this is so something she would buy. Well, she would ask me to buy them because she would never be able to figure out how to order online.
This cutie on my plate is the daughter of one of the bloggers who was there. So I was very careful not to smear frosting on the plate, so I could wipe the crumbs off and let the mama take the plate home. Oh yes, I did. If it was my kid's face on a paper plate, I would have collected every plate in the room. Your kid's face on a paper plate? That tells them "You're special."
(Want to order plates like these? Or personalized Christmas cards? Use the code
BLOG30
at Hallmark.com and enjoy 30% off your order!)
And then, there was the swag. Oh yes, the swag!
There were Thanksgiving greeting cards,
interactive story books
, ornaments,
recordable books
, and my favorite, the Text Bands.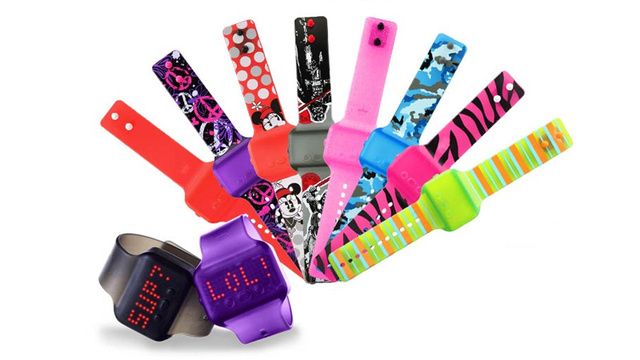 Text Bands are wrist-watch like devices that allow kids to type a message (up to 10 characters) into their band. Think of it as "Tell Them, the digital version." The message scrolls across the face of the band -- URCOOL or BSTFRIEND or LUVMOM. Then when the kid bumps knuckles, high five or shake hands with another band-wearer, the messages swap. Up to 24 messages can be saved on the band. Click the picture to the right for a demo.
The Text Bands are meant for kids, but I could see a few uses for husbands and wives -- TONIGHT?...
Anyway...moving along...
The Giveaway
I think the Text Bands are so cool that when Hallmark offered me the chance to do a giveaway of one of their products on my blog, I picked Text Bands. Lucky you!
So here's the deal. This contest is open from now until midnight on Saturday, November 17. I'm using one of those fancy RaffleCopter widgets to collect entries. The winner will be drawn on Saturday morning and your set of 2 Text Bands will be sent to you directly from my new friends at Hallmark.