'Tis the season for back to school and at our house that means two major milestones. This is Annie's senior year and Charlie's freshman year of high school. Honestly. I'm not sure I've settled into the reality of that quite yet.
I'm not at all melancholy about it, although I will own up to thinking "how did that happen already?"
But I'm so excited for them. Annie is knee-deep into college visits and SATs and senior privileges like eating lunch on the lawn and red polo shirts. Charlie has spent the summer working out with the soccer and basketball teams, has earned a spot on the JV soccer team and may or may not have already asked a girl to homecoming.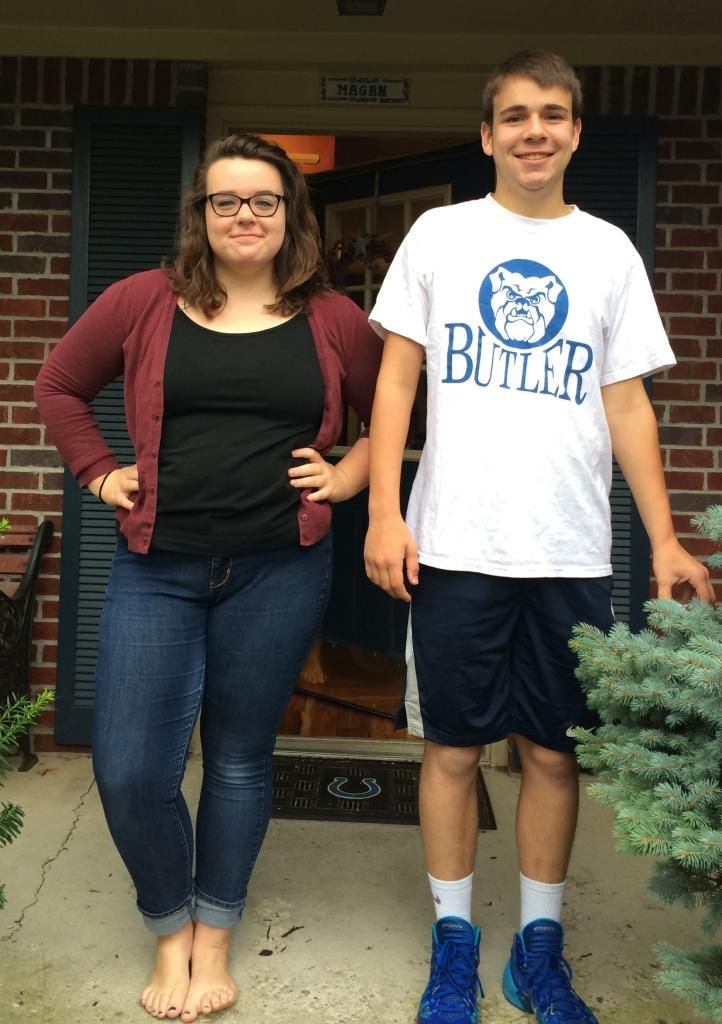 I'm so enjoying watching them becoming the people they were born to be. They are both such good kids (not without fault, surely). I look at this picture of them -- taken on the first day of school on Friday -- and I can't help but feel a swelling in my chest. This is really a fun stage of parenting for me to be in. I'm clueless about enough that they can tease me, but I'm up front and honest about enough that they can trust me.
Letting go of my control freak tendencies has been something I've been working on for the past year or so. That's coming in handy while parenting teenagers. I have confidence in the way we've raised them and in their ability to make good choices -- something I remind them to do,
thanks to my friend Ann
. That's not to say that I don't make use of the "Find my iPhone" app to keep an eye on them from time to time.
They are not going to the same high schools. That's really no surprise to me. Annie's school fits her perfectly. Charlie's fits him. They are only in high school one year together, so we will manage. (Would someone please remind me of that in about 3 or 4 weeks when having 3 kids in 3 different schools seems like an overwhelmingly crazy idea?) While I think it would have been fun for them to be at the same school, I know we've chosen the right school for each of them.
As I was walking the dog yesterday, I stopped to talk to a neighbor who'd just moved his son into a rental home for his sophomore year of college. We talked about how quickly the kids have grown. I could close my eyes and see Annie, at 17 months old, running through our then-empty home on move-in day. Charlie wasn't even a glimmer then.
And now, here they are. High schoolers. A senior! and a freshman. I didn't even see it coming. Gosh. I love these kids.