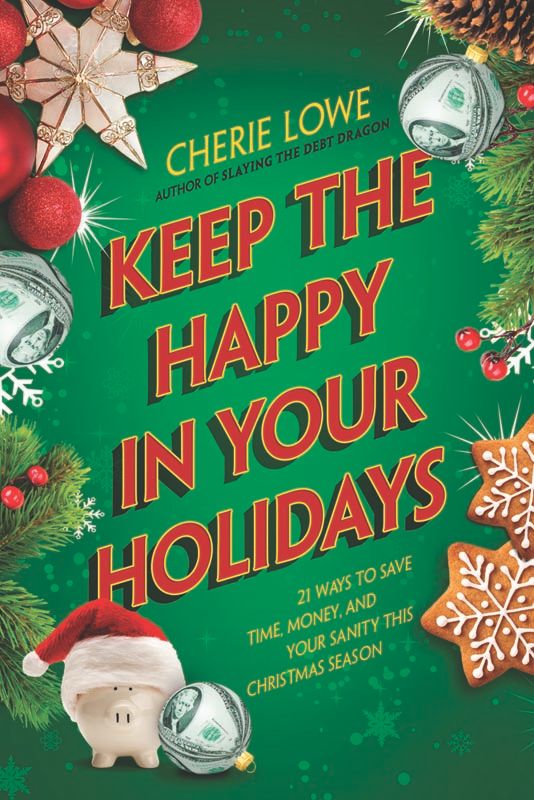 About two weeks ago, my one remaining freelance writing gig came to an abrupt end. With no warning, my client told all of us writing for him to stop. I was counting on the weekly check from that job to finance Christmas this year. Then a few days ago, we got a rather big bill in the mail that I wasn't expecting. I could feel the anxiety begin to set in. It seemed like the perfect time to read the new e-book Cherie Lowe, aka The Queen of Free, asked if I would review. The book is called
Keep the Happy in Your Holidays: 21 Ways to Save Time, Money and Your Sanity this Christmas Season
and is available via download for $1.99.
I'll admit that reading books about saving money and budgeting ranks in my mind right above going to the dentist. But, frankly, I was looking for someone to tell me we could have a great Christmas season without spending a lot of money. At 122 pages, the book was a quick read.
Keep the Happy in Your Holidays
is broken down into 21 tips, beginning with a pledge to make it a debt-free Christmas. That's not a hard one for us; we operate on a cash-only basis. From advice on what is really a good deal on Black Friday (Tip #4) to creative ideas for gifts that cost $5 or less (Tip #11), the e-book is full of practical ideas for a variety of situations and scenarios related to the holiday season, including gift giving, travel and even wrapping presents.
My favorite tip was Tip #9: Cultivate a Culture of Contentment in Your Kids. I want my kids to have happy memories of Christmastime and I don't believe that money = memories. Cherie offers these suggestions:
Begin with a thankful list (instead of a list of wants).
Conduct an ongoing discussion about wants and needs.
Invest in your child's faith.
Serve together. This is on my list of to do's this holiday season.
Ask for or give experiences. Maybe Grandma would like to pay for a few months of piano lessons?
Set limits. In our house, Santa brings 3 gifts and a stocking and mom & dad give 1 gift for each kid. We've done this since Annie's second Christmas, so our kids are used to it.
Reflect what you want to see. Cherie writes "If we are worried, hurried, or frazzled, we shouldn't be surprised if they [our kids] are too. If we are consumed with our desire for the next big thing or are constantly dissatisfied, then they will be too."
Nowhere in the book does Cherie tell you what to do. She gives suggestions and examples of strategies that worked to help Cherie and her husband pay off $127,000 in debt in just four years. The e-book includes several free printables, including printable gift tags. She also does a nice job gently circling the reader back to the real reason for the Christmas season.
Readers of
Keep the Happy in Your Holidays
also get the introduction and first chapter of Cherie's book,
Slaying the Debt Dragon
, which tells the Lowe's story of battling their mountain of debt and the lessons they learned along the way. That book will be available in bookstores in early January 2015.
How to get the books:
You can get both Keep the Happy in Your Holidays and Slaying the Debt Dragon on Amazon. If you use the links in this post to make your purchase, I'll get a few cents from your purchase.
Beginning December 1, if you pre-order Slaying the Debt Dragon (available in paperback and e- book), you'll get a copy of Keep the Happy in Your Holidays for FREE.
To learn more about the books and hear what others have said about them, visit the
book website
.