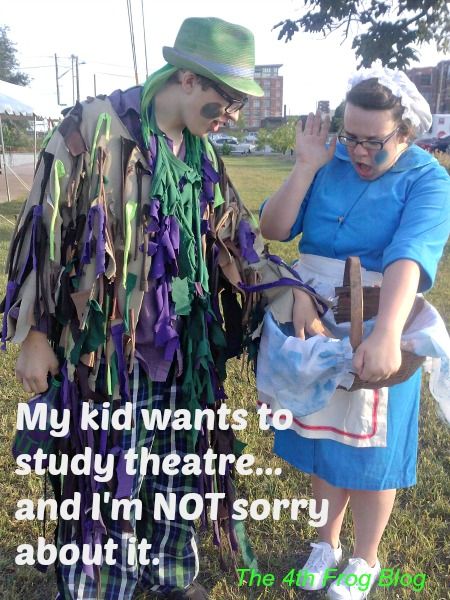 Get into a conversation with a parent in which one or both of you have a child who is a senior in high school and the topic at hand inevitably turns to college. "What does your child want to study?" "Where does she want to go to school?" My daughter Annie plans to study theatre and I'm not sorry about it.
When Annie first started talking about majoring in theatre performance and making the stage her life's work, I was excited for her. She has a passion for it. She doesn't just memorize lines and spit them back out. She studies her craft. She reads books on the techniques of acting, seeks critiques of her performance, works tech to learn another side of production. You can see in her eyes and her smile how theatre makes Annie come alive.
But when people started asking me what Annie plans to study in college, I kind of felt like I had to apologize for her career choice. After all, studying theatre isn't exactly a "responsible" choice like studying finance or medicine or education. I would deliver my answer of "theatre" with a slight smile and a quick roll of the eyes, as if to say, "You know kids and their unrealistic expectations." I thought that was how people expected me to react.
My husband and I have talked to Annie about the realities of a career in theatre. Jobs may be scarce and may not pay well. Waiting tables to make ends meet is a real possibility. Grad school may be a necessity; apartment sharing will definitely be. But this is what she wants to do. She is willing to make those sacrifices. No one goes
back
to school to study theatre. Now is her time.
And so, somehow in the course of Annie moving from her junior year in high school to her senior year, I've lost that obligated, apologetic feeling and the eye roll that came with it. I think about all the joy that the arts -- theatre being one of them -- bring to people. Without people invested in creating that art, that joy would be lost. I look around my own community and see adults working in the realm of theatre -- on stage, back stage, in promotion and development. I can see a future in that for Annie.
Does everyone who goes to theatre school end up winning a Tony or a Golden Globe or inking a deal for a network television show? Of course not. Just as not every finance major ends up being president of a bank and not every med school student wins the Nobel Prize for medicine.
Those who do end up with those career superlatives have certain things in common: they work their butts off; they seize opportunities when presented; they don't take no for an answer; and they do what they do because they are passionate about it.
My daughter is passionate about transforming herself into characters on a stage for the purpose of entertaining, and sometimes educating, people in the audience. And you know what? I'm not the least bit sorry about that.