It's almost summertime! And summertime means ice cream time! (Well, for me, so does fall, winter and spring, but that's not the point of this post.)
Have I ever told you how I feel about ice cream? Let me remind you -- I LOVE it. If I could only eat one food for the rest of my life, it would be ice cream.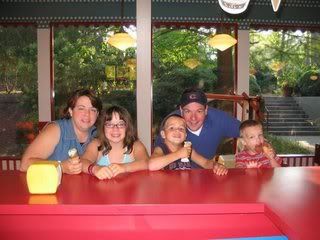 I like the 50-cent McDonald's soft serve cone for a not-too-indulgent treat. I like Maggie Moo's dark chocolate and Cinna-Moo mixed with almonds for something special. And if I'm near a Baskin-Robbins, it's definitely the chocolate peanut butter. And I don't keep ice cream at home because that would be trouble!
In fact, the only downside to ice cream is that pesky fat and calorie thing. But it seems that new frozen yogurt shops are popping up all over the country. It's like ice cream without the guilt. All-natural, probiotic, gluten-free and kosher. Not only is it delicious, it's also very PC.
And today through Sunday, I'm hosting one delicious giveaway with Eversave.com.
One lucky winner in the Indianapolis area will win a Save at Red Mango Frozen Yogurt, plus $5 in Save Rewards to use on an Eversave daily deal of their choice!
To enter to win this yummy giveaway, do the following:
Sign up for Eversave Indianapolis
Leave a comment here telling me what your favorite ice cream flavor or combo is.
You can earn extra entries by tweeting
: "I want to win a free

ice

cream

Save from @EversaveIND and @4thFrog"
If you don't want to wait for the giveaway, you can
snag this Save for yourself
. Spend just $5 for two medium, one-topping frozen yogurts from
Red Mango
in Broad Ripple ($10.24 value). Here's the fine print:
Eversavers may buy 2 Saves per person and 2 additional Saves as gifts
Customers may use one Save per visit
Customers may add as many more toppings as they like (that fit in the cup) for just 50 cents more!
Promotional value of the Save expires on Nov. 20, 2011
Now, don't go feeling left out if you don't live in Indianapolis.
Eversave is throwing a virtual ice cream social by offering great ice cream saves in several cities across the U.S. Click the picture below to find deals near you.
Disclosure: I'm promoting this giveaway on behalf of Eversave. In exchange for participating, I earned Save Bucks. The content of this post was all written by me, myself and I. And any change to the landscape of my butt as a result of consumption of ice cream is solely my responsibility.